New Sieps Report on Eurozone Reforms
Lisa Dellmuth, Magnus Lundgren and Jonas Tallberg have recently published a Sieps report about "State Interests and Bargaining Power in the Reform of the Eurozone".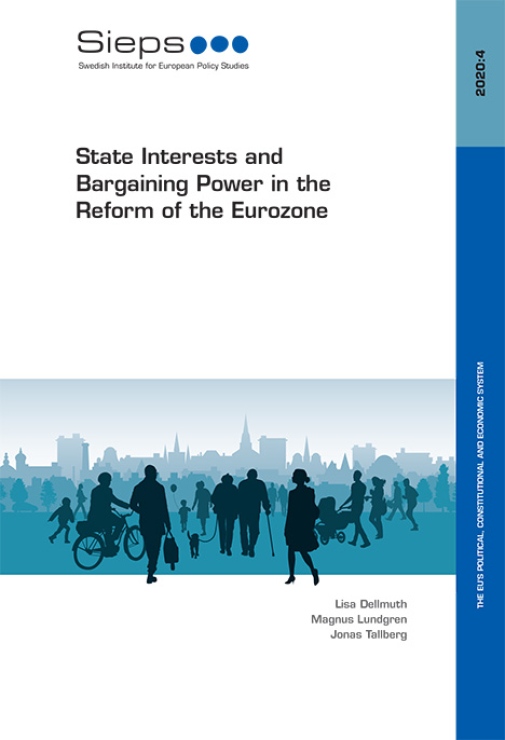 The euro crisis that followed in the wake of the 2007–8 financial crisis set in motion a reform process with far-reaching consequences for European integration in general and the euro area in particular. The reforms that were agreed upon in 2010–2015 can be divided into three categories: the introduction of rescue funds; a reform of the EU's fiscal rules; and, lastly, the establishment of the European banking union (thus far common supervision and resolution of euro area banks). Several other initiatives were discussed or negotiated at the height of the crisis, for example debt mutualisation (Eurobonds), and a majority of member states signed a Treaty on Stability, Coordination and Governance in the Economic and Monetary Union.
Using unique data from the research project "EMU Choices", the authors of this report examine first, how national interests were shaped with respect to the reform proposals; and, second, the bargaining process that followed between the member states. They find, among other things, that bargaining success was relatively evenly distributed across the member states, while the Commission is shown to have been the most influential actor in the reform process.
The study provides a thorough and valuable analysis of the dynamics of the integration process as such and presents several novel insights of great value to the future study of European integration. The Corona pandemic has provoked a new set of initiatives that centre foremost on economic recovery during and after the new crisis. The study of the 2010–2015 reforms provides valuable lessons and will help us understand the dynamics of the ongoing process.
For the full report, see: https://www.sieps.se/en/publications/2020/state-interests-and-bargaining-power-in-the-reform-of-the-eurozone/
Last updated: August 27, 2020
Page editor: Gabriel Holmbom
Source: Department of Economic History and International Relations